Cambridge Castle Rock Stone Veneer
Cambridge Castle Rock is a classic stone pattern reminiscent of old world structures.  Muted browns are blended within a traditional canvas of charcoal and natural stone colors.  All Proline Stone Castle Rock stones are made to create a classic castle rock look of timeless beauty and stability.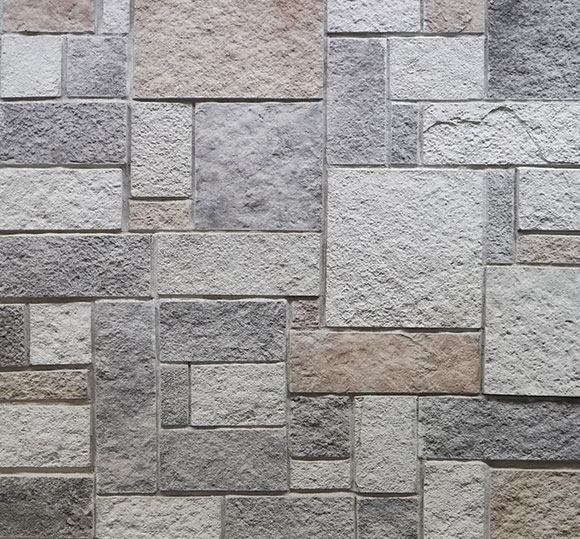 Applications for Stone Veneer
IMPORTANT –Arranging your Castle Rock:  As with all Proline Stone patterns, we recommend arranging your stone in the pattern you like BEFORE adhering to your wall.  THIS IS ESPECIALLY IMPORTANT FOR CASTLE ROCK!   Lay your stone out, taking time to get the look you want.  You will want the larger stones spaced throughout your project with the smaller stones adding to the geometric pattern desired.  Break up straight lines within your pattern by staggering stones of different lengths and sizes.  We generally recommend a ¼" to ½" grout line between stones
Manufactured stone veneer is a fraction of the weight and cost of natural stone; making it the ideal stone choice for new construction and residential or commercial remodeling projects including exterior and interior walls, siding, chimneys, fireplaces, wood burning stoves, landscape walls, wine cellars and pillars. Use our dealer locator to find a Proline Stone Veneer dealer near you.
Coverage
1 Box: 10 sq. ft
1 Pallet: 100 sq. ft
Suggested Accessory Colors
Grey, Natural, Brown
Suggested Mortar Colors
Grey, Natural
Check out more stone veneer panels or visit the product gallery.