The art of living well. The art of Pro-Line stone veneer. Pro-Line stone veneer is the ideal natural stone alternative, matching the warmth and beauty of natural stone. The authentic beauty and ageless look of stone veneer adds to the value and appearance to the interior or exterior of any home or commercial building.
Our high-quality manufacturing process ensures a unique look to every stone and a style to fit the look you want. And, since Pro-Line manufactured stone veneer weighs up to 75% less than natural stone, installation costs (no footers needed) and shipping costs are reduced making it a cost effective choice. Pro-Line is the ideal manufactured stone veneer for your exterior or interior remodeling and new construction projects. Check out our Stone Veneer Gallery to see all of the products we have to offer and to see Pro-Line's stone veneer applied to fireplaces, kitchens, exterior walls and more.
Featured Stone Veneer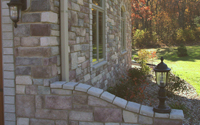 Chardonnay Limestone
Chardonnay Limestone is a premium quality manufactured stone veneer that features rich wine, moss green, tan and natural colors in the classic rough-cut limestone style.